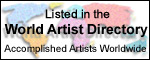 Home
Portraits
Biography
About Giclees

- The Collection -

Free counters provided by Honesty.com.

Simple Steps to Owning Your Own Portrait
Since Gary paints some of the busiest people in the world, the following procedure has been found to be the most rewarding and enjoyable.
After contacting the Gary George Studio or an authorized representative, a meeting at your home will be arranged. Pre-arranged accommodations at a hotel near your home allows for flexible scheduling.
Gary will then need a half-hour to an hour sitting for reference photographs, research into the proper dress, and the signing of a contract for the desired size and type of portrait(s). A down payment will be required at this time.
Gary will then return to his Palm Beach studio to complete the painting.
In approximately sixty to ninety days, he will return to your home with the painting, beautifully framed, ready to hang. He can attend any unveiling celebrations, as are common in bringing a new Gary George portrait into the World.
We are dedicated to making the process a valuable, easy, and fun for all involved. May the day you receive your Gary George portrait be one of the happiest days of your life.
Gary George
(561) 301=2852
P