New! Hardcover coffee table size Book.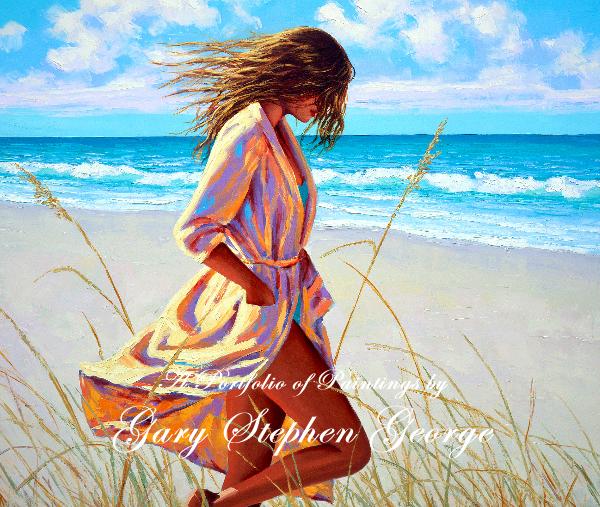 Over Fifty Years Of Making Art
Welcome to the Gary George website. You are invited to browse through these "website galleries" which shows images of his paintings and prints.
With his professional art career starting in 1970 as a portrait painter, his paintings and prints have been collected for over five decades. This website shows some of his paintings and prints that are on exhibit and for sale. They include limited edition lithographs and serigraphs and giclee reproductions of his paintings. Oil paintings are also available. Commissioned portraits and other artwork are most welcomed.
The Artwork of Gary George
The collectors of Gary George's paintings and prints are continually delighted by his variety of subjects and the manner in which he paints them. Whether painting a stately executive portrait, an endless vista of wooded mountains, or a sensuous female figure walking the beach, he proves over and over again that he is an innovative contemporary master.
His career started in 1970 drawing and painting portraits from life and painting scenes "en plein air". Since his subjects had to sit for their portraits, he perfected "alla prima" techniques in oil and pastels. As his talents became known he was commissioned by many members of society and big business. In the 1980's he painted Pope John Paul II, President Ronald Reagan, Armand Hammer and His Majesty King Hassan II. Hundreds of portraits have been commissioned from him over the years.
Art galleries and publishers have played important roles in the sales and distribution of paintings and prints. Ben Seger Fine Arts has published many limited edition lithographs and serigraphs of Gary's paintings. Graphic Impressions Group has published eight editions of serigraphs. Fine Art Wholesalers are world-wide distributors and publishes giclees of his figurative artwork. Frontline Graphics publish and sale unlimited editions from his paintings. Princess Cruises along with other cruise lines have sold his serigraphs, giclees and original paintings throughout the world on their ships.
When The Cancer Treatment Centers bought over a dozen of his paintings at New York's Art Expo in 1990 it marked the beginning of major corporations collecting his work. Museums that own his art include the Fine Art Museum of New Zealand, the Los Angeles Museum of Art, the Schacknow Museum of Fine Art in Plantation, FL, Rollins College, The Universty of Florida, and others.